First Time in Israel - International Patients Can Participate in Rambam Hospital's Clinical Trials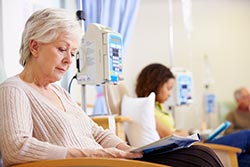 Rambam Medical Center has received worldwide recognition as one of the leading institutions specializing in the study and treatment of cancerous tumors. International clinical studies are conducted in the Oncology and Hematology Center's laboratories.
Participation in such studies provides patients with a unique opportunity to receive oncological treatment FREE OF CHARGE and take advantage of the most innovative methods.
The patient's ability to take part in the trials depends on the nature of cancerous cells, the condition's phase, the patient's previously received treatment, and his or her general health.
All clinical trials comply with medical ethics and safety and security regulations. The patients are under constant care of our doctors and the trials are run in accordance with the Helsinki Declaration. All projects involving volunteers are monitored according the standards of Good Clinical Practice (GCP), a set of rules that protects human rights and ensures compliance with ethical standards
Rambam conducts clinical studies for almost all types of tumors.
Cancer type

Clinical trial

Soft tissue sarcoma 0516-16
A phase 1b/phase 2. Study evaluating
Gemcitabine and Docetaxel with or without
Olaratumab
Tumors of pancreatic, Gastrointestinal,
thoracic origin
NCT - 02955069
Study to evaluate efficacy of PDR001 in
patients with advanced or Metastatic non –
functional Neuroendocrine tumors
Carcinoma of head and Neck 0364 - 16
Study of Nivolumab in combination with Ipilimumab
versus (Cetuximab+Cisplatin/Carboplatin+Fluorouracil)
in Metastatic Squamous Cell Carcinoma
Carcinoma of head and Neck 0593-16
Study of Pembrolizumab given
Concomitantly with Chemoradiation Versus
Chemoradiation alone
Advanced solid tumors (Vulvar or MSI-High)
0526-15
Clinical trial of Pembrolizumab(MK-3475)
Evaluating Predictive Biomarkers
Advanced solid tumors 0315-16
CSF-1R inhibitor LY3022855 in combination
With Durvalumab
Melanoma 0448-16
Study of Atezolizumab +
Cobimetinib+Vemurafemib
Versus Cobimetinib in untreated BRAFV600
mutation positive patients
Liver cancer 0428-14
BSC as second line treatment in patients
with hepatocellular Carcinoma and
elevated Baseline Alpha-Fetoprotein (AFP)
Pancreatic cancer 289-16
Study of Olaparib Monotherapy in patients
with gBRCA mutated metastatic Pancreatic
cancer
Stomach cancer 289-16
CheckMate 577-Study of Nivolumab or
Placebo in patients with Resected
Lower Esophageal or Gastroesophageal
junction cancer
Gastric cancer 0617-15
TAS-102 Plus Best Supportive Care (BSC)
versus Placebo
Plus BSC in patients with metastatic Gastric cancer
Testicular cancer 0482-16

CheckMate 647-Nivolumab in
Relapsed/Refractory central nervous
system Lymphoma (PCNSL) or Testicular
Lymphoma (PTL)
Glioblastoma 0487-15
ABT-414 with concurrent Chemoradiation
and Adjuvant Temozolomide in patients with
Glioblastoma (GBM) with EGFR amplification
Lung cancer 0379-15
IMpower010 MPDL3280A compared with
BSC following adjuvant Cisplatin
Chemotherapy in PD-L1 patients with
non-small Cell lung cancer
Lung cancer 0319-16
X-396 (Ensartinib) versus Crizotinib in Anaplastic
Lymphoma Kinase (ALK) Non-Small Cell
Lung cancer (NSCLC)
Mesothelioma 0015-16
Nintedanib + Pemetrexed/Cisplatin followed
by Nintedanib monotherapy versus Placebo
with Pemetrexed/Cisplatin for patients with
unresectable malignant pleural Mesothelioma
Ovarian cancer NCT-2470585
Carboplatin/Paclitaxel with maintenance
Veliparib (RAP inhibitor) in patients with
Epithelial Ovarian, Fallopian tube,
Peritoneal cancer

Ovarian cancer NCT-2470585
Bay 17096- Radium 223 dichloride in
combination with exemestane and
everolimus versus placebo and exemestane
and everolimus on HER2 negative hormone receptor
positive breast cancer combination
with Axitinib versus Sunitinib monotherapy
in advanced renal cell Carcinoma
Breast cancer 0136-17
Atezolizumab (Anti-Pd-L1 Antibody) in
combination with Paclitaxel versus placebo
with Paclitaxel for inoperable metastatic
Triple Negative Breast cancer
Kidney cancer 0139-16
JAVELIN Renal 101-Avelumab (msb0010718c)
Prostate cancer 0404-15
JNJ-56021927 in high risk advanced Prostate
cancer receiving radiation therapy
Bladder cancer 0351-16
MK-3475-361/KEYNOTE-361A Pembrolizumab
with combination of Chemotherapy versus
Chemotherapy in patients with metastatic
Urothelial Carcinoma at first line

AML 0049-13
Treatment with BL-8040 in patients with
reoccurring Acute myocardial leukemia (AML)
ALL 0490-13
Treatment with Biblyntomombab in patients
with reoccurring acute lymphocytic leukemia (ALL)
NHL 0268-13
Ivrotiniv for chemotherapy treatment CHOP-R
for Lymphoma patients of type DLBCL
Follicular Lymphoma 0349-14
IPI-145 in combination with Ritoximab versus
Ritoximan in previously treated Follicular
Lymphoma patients
DLBCL 0544-14
Treatment with Slinxor (KPT-330) in
reaccuring Lymphoma of DLBCL type