Cancer Treatment at Rambam Medical Center, Israel
The Oncology Center at Rambam Medical Center is recognized by the European Society for Medical Oncology (ESMO) as a designated Centre of Integrated Oncology and Palliative Care. The Center specializes in the complex treatment of all stages of cancer, including the treatment of patients suffering from progressive, recurrent, or inoperable forms of cancer. Rambam Hospital's specialists employ all of the contemporary oncology treatment methods, utilizing highly effective and cutting-edge technological and pharmaceutical treatments.
The clinic's close cooperation with oncology research centers in the US and Europe has allowed the introduction of innovative and highly effective cancer treatment technologies into daily practice. Technologies used include intraoperative radio and chemotherapy, brachytherapy and radiosurgery, radioactive iodine treatment (I-131 MIBG), and systemic electronic radiotherapy.
Oncology Center Treatment Units
The Oncology Center of Rambam Medical Center is composed of both outpatient and inpatient treatment units.
The Oncology Center offers the following types of medical services to its patients:
Outpatient consultations and observation by the best oncologists in Israel
Diagnostics performed by the most innovative equipment
Screening studies within the framework of early cancer diagnosis programs
Invasive and endoscopic cancer diagnoses
Laboratory analysis of onco-markers
Genetic analysis for the presence of hereditary forms of cancer or chromosomal mutations
Modern cancer medical therapy
Radiotherapy performed with the aid of innovative techniques
Diagnosis, prevention, and treatment of complications, as well as side effects resulting from chemotherapy and radiotherapy
Palliative treatment aimed at reducing symptoms associated with cancer
Psychological support for patients and their families
Consultations with dieticians who specialize in the dietetic therapy of cancer patients
Rambam's specialists utilize a complex and integrated approach to cancer treatment, which allows them to provide effective assistance to patients in all stages of cancer, and to achieve impressive treatment results that are noted by cancer specialists from around the world.
Cancer Diagnosis Methods at Rambam Medical Center
One of the key factors for the successful treatment of cancer is early diagnosis of the disease. The problem is that, during the initial growth stages and spread of malignant cells, the disease is particularly asymptomatic. Oftentimes, the cancerous tumors are accidentally detected during a diagnostic procedure that is not even associated with the field of Oncology.
Oncological diagnosis at the Rambam Oncology Center is carried out with the aid of the latest equipment and precise diagnostic protocols.
In order to obtain the most reliable information about a patient's condition, the diagnostic procedure should be performed at Rambam's Oncology Center, or should use the same protocols as Rambam Hospital. The accurate identification of the exact type of malignant tumor helps the doctor compose the most effective protocol for the treatment of the specific cancer.
Methods of Oncology Treatment used by Rambam Medical Center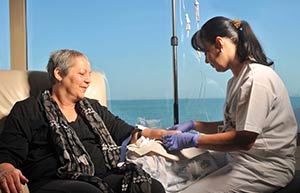 The Oncology Center at Rambam employs a wide range of cancer treatment methods. The treatment protocol depends on the type of cancer diagnosed. Some patients are assigned only a single type of treatment; however, the majority of patients are recommended to undergo complex treatment, which includes a combination of surgery, chemotherapy, and/or radiation. In addition, immunotherapy, as well as targeted and hormone therapies, may also be prescribed.
Being diagnosed with cancer can be a very difficult emotional journey for an individual. Many patients feel broken and hopeless. However, a comprehensive consultation with a doctor that covers all possible treatment options will help the patient approach the situation with a positive state of mind.
The Rambam Oncology Center employs proven traditional cancer treatment methods, as well as the latest innovative methods.
Surgery –
Surgery is used to diagnose and treat malignant tumors, and in some cases, even allows for the prevention of cancer. In most cases, surgical intervention is a primary treatment method that battles cancer in a highly effective manner, especially if pathological cells have not spread to other organs and tissues.
Stereotactic Radiosurgery (SRS) –
SRS is a non-surgical method of radiation therapy that is used to treat functional disorders and small tumors in the brain. The method employs the delivery of high-precision radiation doses that are higher in radiation than traditional radiation therapy. This allows for more effective tumor treatment without harming healthy surrounding tissues.
Chemotherapy –
Chemotherapy utilizes drugs in order to destroy cancer cells. Patients often fear chemotherapeutic treatment. Understanding what chemotherapy is and how it works helps to ameliorate those fears.
Radiation therapy –
Radiation therapy utilizes high-energy radiation, which damages and kills cancer cells. Radiation is one of the most common methods of cancer treatment. Radiation can be used independently or in combination with other cancer treatment methods.
Intensity-Modulated Radiation Therapy (IMRT) –
Intensity-modulated radiotherapy (IMRT) uses linear accelerators to safely and painlessly deliver precise radiation doses to a tumor while minimizing the dose to surrounding normal tissue
Linear Accelerators (LINAC) for Tumor External Beam Radiation Treatment –
Linear accelerators (LINAC) provide a safer and more effective way of treating benign and malignant tumors with radiation therapy. These innovative devices designed to treat tumors implement the most advanced technical solutions of dosimetric planning and imaging when treating cancer cells.
Read more>>
Targeted therapy-
Targeted drug therapy is a relatively new cancer treatment. Targeted drugs contain substances that destroy the molecules responsible for the growth and division of cancer cells. Targeted therapy affects cancer cells directly, without harming surrounding healthy tissue.
Immunotherapy –
Immunotherapy is a variant of cancer treatment that affects the patient's immune system, stimulating it to fight against the malignant growth. The type of drug administered depends on the type of cancer that has been detected in the patient.
Hyperthermia –
Hyperthermia is used in Israel's oncology wards as a method of exposing the human body or parts of the body to a thermal environment, in order to suppress pathological cancer cells. Specialists at Rambam Medical Center use high temperatures to destroy cancer cells and significantly reduce tumor size without harming healthy tissues.
Photodynamic therapy –
Photodynamic therapy is based on the use of photosensitizing agents in combination with light waves of a certain wavelength. Photosensitizers accumulate in tumors. Once they are exposed to light waves, they release a form of oxygen that destroys pathological cells. 
Hyperthermic Intraperitoneal Chemotherapy (HIPEC) –
HIPEC is a modern and highly effective method for treating abdominal cavity cancer. The treatment consists of a highly concentrated, heated chemotherapy treatment that is delivered directly to the abdomen during surgery. Unlike systemic chemotherapy delivery, which circulates throughout the body, HIPEC delivers chemotherapy directly to cancer cells in the abdomen.
Read more >>
What is the Cost of Cancer Treatment at Rambam Medical Center?
The prices of medical procedures in Israeli hospitals are set in accordance with the recommendations of the Israeli Ministry of Health.
How much will the treatment cost? This is one of the main questions posed by patients from abroad when considering cancer treatment in Israel. The cost of cancer treatment in any medical institution in Israel, including Rambam Medical Center, consists of the cost of the necessary diagnostic procedures and the prescribed treatment protocol. The treatment protocol may include surgery, chemotherapy, and radiation therapy. Certain protocols include bone marrow transplant, brachytherapy, the use of modern biological treatments, or the use of a medical robot for complex operations.
It is impossible to predict in advance, before the patient has undergone a comprehensive diagnostic procedure, the treatment protocol that will be chosen for the patient. Therefore, the precise cost of treatment, as a rule, cannot be given before the patient's arrival at the hospital. The patient will receive an estimated price quote, which will include the exact cost of the diagnostics procedures, and estimated prices for variations of treatment.
As a rule, the sooner you seek medical help after your diagnosis, the less expensive the treatment will be.
Leading department specialists
Cancer treatment packages
Colon Cancer
Price $
The Package Includes:
* Up to 7 days of hospitalization.
* Operating room charges: recovery room, scrub & circulating nurse.
* Routine laboratory tests necessary for the procedure as ordered by the attending physician.
* Radiology Studies: Chest X-ray, if required.
* Medications: Routine medication used for procedure, during admission only.
* Equipment costs: Medical Supplies, Routine Surgery Supplies.
* Doctor Fees: Surgeon + Anesthesiologist + Assistant Surgeon (if necessary)
18,500 - 21,000
Stomach (Gastric) Cancer
Price $
The Package Includes:
* Up to 10 days of hospitalization.
* Operating room charges: recovery room, scrub & circulating nurse.
* Routine laboratory tests necessary for the procedure as ordered by the attending physician.
* Radiology Studies: Chest X-ray, if required.
* Medications: Routine medication used for procedure, during admission only.
* Equipment costs: Medical Supplies, Routine Surgery Supplies.
* Doctor Fees: Surgeon + Anesthesiologist + Assistant Surgeon (if necessary)
25,500 - 28,000
All types of cancer are treated at Rambam Medical Center, including but not limited to:
Tumors of the head and neck
Larynx cancer
Tongue cancer
Salivary gland cancer
Oral cancer
Eye cancer
Tracheal cancer
Thyroid cancer
Thymus cancer
Urologic Oncology
Bladder cancer
Testicular cancer
Kidney cancer
Adrenal cancer
Neurooncology
Brain tumors
Spine cancer
Breast Cancer Center
Breast cancer (mammary gland)
Paget's Disease
Gynecologic Oncology
Cervical cancer
Uterine cancer
Ovarian cancer
Vulvar cancer
Clinic of Gastrointestinal Oncology
Gastrointestinal tumor
Esophageal carcinoma
Bowel caner
Colon cancer
Rectal cancer
Stomach cancer
Pancreas cancer
Liver cancer
Gallbladder cancer
Other types of cancer
Pediatric oncology
Hematologic oncology
Mediastinal tumors
Pediatric hematologic oncology
Lung cancer
Skin cancer, Melanoma, Basal Cell Carcinoma
Sarcoma and soft tissue sarcoma
Lymph node cancer
Bone cancer
Use the form below to obtain an estimated cost of diagnostics and treatment at Rambam Hospital.