JCI accreditation for Rambam hospital
Israel's prestigious Rambam Health Care Campus is the recent recipient of international accreditation for the superior quality of its healthcare services and the high standards of safety it practices. Rambam was awarded the accreditation by Joint Commission International (otherwise known as JCI), a renowned leader in the field of health care accreditation worldwide. By JCI standards, Rambam complies with the strictest measures of professionalism demanded of hospitals in the western world.
Over the span of two years, Rambam prepared for the accreditation process by JCI. Throughout those months, extensive upgrades were set into motion, under the careful guidance of an appointed committee, in order to comply with international standards.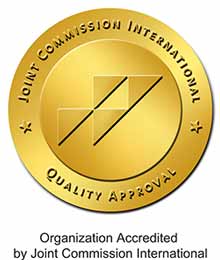 Performed by an interdisciplinary team of five JCI professionals from the US, the evaluation spanned a period of five days, during which in-depth assessments were conducted in various departments of the hospital. These investigations ensured compliance regarding the safety and quality of medical treatment, as well as the environment in which treatment was performed. The areas of infection prevention, infrastructure, staff safety, patient safety, purchasing control and safety, and delivery and storage of medical equipment were all thoroughly assessed, as were the areas of research, publications, and education, among many others.
When at last the evaluation drew to a close, the JCI team presented Rambam with the outstandingly high score of 97.5%—an incredible accomplishment, as pointed out by Dr. Paolo Nevo, the JCI team leader.
The CEO and Executive Director of Rambam, Professor Rafi Beyar, recognized that having been awarded this prestigious accreditation speaks directly to the teamwork and professionalism of the hospital staff as a whole.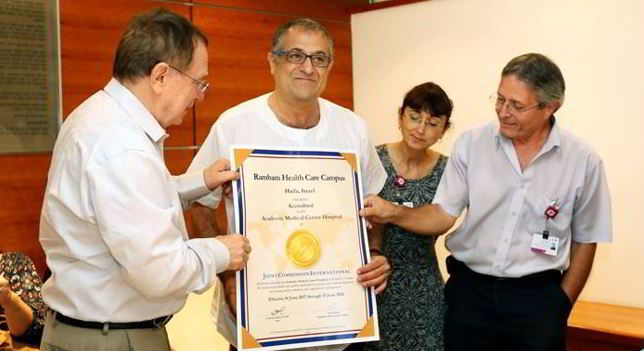 As Professor Beyar noted, "The accreditation we received goes to each and every member of our staff. Together, we will continue as leaders in providing excellent medical care for our patients from Israel and around the world—and leave our mark on the world in the fields of medical care, innovation, research, technology, and staff development, while always keeping the individual at the heart of every effort."
Click on the thumbnail below to see the full certificate