Pediatrics – the Ruth Rappaport Children's Hospital at Rambam Medical Center
Rambam's new children's hospital, Ruth Rappaport, was built in 2014, and as of today, is one of the most progressive pediatric clinics in the world.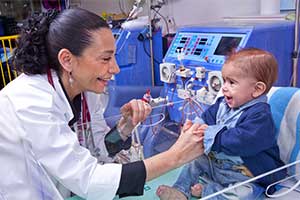 Ruth Rappaport Children's Hospital is equipped with a variety of advanced technology, including visual diagnosis tools, surgical technology (including microsurgical operations using robots), its own laboratory, the newest facilities for children for bone marrow transplant recovery, and separate maternity units and wards. Unlike other health facilities, all units at Ruth Rappaport are concentrated under one roof, which allows all types of treatment to be performed without delay.
Ruth Rappaport Children's Hospital treats over 40,000 Israeli children and hundreds of children from abroad each year.
Pediatric treatment at the hospital is provided by world-renowned specialists and doctors. Each department is headed by a top-level expert who has completed internships and licensing courses in highly prestigious medical centers in Europe and North America.
Ruth Rappaport Children's Hospital works closely with the Children's Hospital in Boston (Massachusetts, USA), which allows it to utilize the advanced pediatric treatment expertise of American specialists in the treatment of its patients.
The hospital is unique not only in its ultra-modern medical equipment, but also in its specialized design. Each floor has a unique theme, and the furniture and appliances are vividly colored to create a playful, child-friendly environment that complements treatment by maintaining a positive emotional atmosphere, which has been proven to contribute to a speedy recovery. Hospitalized children have access to playrooms, a cinema hall, a science museum, and an assembly hall.
Departments and Clinics of the Children's Hospital
Congenital Diseases Department
The treatment of congenital disease can be both radical and palliative. Thanks to the application of innovative surgical techniques, specialists at Rambam Hospital successfully cure heart diseases, central nervous system tumors, and deformities of the spine.
Urology Department
The Clinic of Pediatric Urology specializes in the diagnosis and treatment of congenital malformations of the urogenital organs, such as: Hypospadias, Vesicoureteral reflux, kidney obstruction, Hydronephrosis, Urethrostenosis, Cryptorchidism, and many more.
Orthopedics Department
The Department of Pediatric Orthopedics specializes in the diagnosis and treatment of various diseases of the musculoskeletal system, including bruises and fractures. The department is particularly experienced in the treatment of skeletal distortion and corrections to limb length, the early diagnosis and treatment of congenital dysplasia of the hip joint, and the treatment of clubfoot through the Ponseti method.
Treatments are available for:
Congenital deformities, club foot
Limb Lengthening
Complex hip reconstructions
Posttraumatic malunions
Cerebral palsy
Ablations of Osteoid Osteoma
Arthrogryposis
Endocrinology Department
The Department of Pediatric Endocrinology provides treatment for infants, children, and adolescents suffering from various hormonal disorders, growth retardation, defects associated with puberty, obesity, and metabolic diseases of the osseous system. The department operates a unique clinic, the only one in Israel, that provides treatment for girls and women with Turner Syndrome, as well as a clinic specializing in the treatment of metabolic diseases of the bone system.
Surgery Department
The Department of Pediatric Surgery at Rambam Medical Center utilizes unique diagnostic and laparoscopic equipment and leads Israel in surgical intervention for children suffering from cancer, congenital malformations, Crohn's disease, and Hirschsprung disease. Rambam's surgeons are the only experts in Israel currently performing minimally invasive, robot-assisted operations on children. There are a variety of operations that are carried out exclusively at Rambam Medical Center. When performing micro-invasive access operations, special surgical instruments are utilized. These instruments are brought to the operating area with the aid of special conductors, resulting in excellent cosmetic results. Due to the application of innovative technologies, a high level of medical care is attained, including the successful treatment of severe conditions, the reduction of hospitalization time to a minimum, and the minimization of postoperative complications.
Neurosurgery Department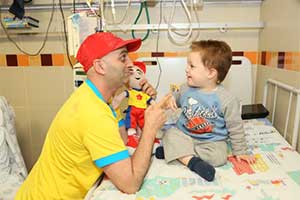 The Department of Pediatric Neurosurgery is headed by Prof. Yosef Gilburd, who developed several unique techniques that successfully treat brain and spinal cord tumors in children. One example is a unique surgical technique for reducing intracranial pressure. The technique is currently used by both Israeli and foreign experts.
Tumors of the central nervous system (brain and spinal cord) rank second in frequency among all malignant childhood diseases, second only to Leukemia. In the overwhelming majority of cases, the primary tumor originates in the brain, with spinal cord injury being a consequence of the metastases. Primary spinal cord tumors account for only 4-6% of the total number of tumors of the central nervous system.
Treatment of brain cancer in children is one of the main specializations of pediatric neurosurgery in Israel.
Gastroenterology
The Department of Pediatric Gastroenterology and Dietology provides diagnosis and treatment of children with inflammatory diseases of the gastrointestinal tract, including: Crohn's disease, Pyloric Stenosis, Hirschsprung's disease, Esophageal Atresia, VACTERL association, Ulcerative Colitis, congenial and acquired liver disease, and Hyperlipidemia.
Oncology
The diagnosis of cancer is a stressful and traumatic event for patients of any age, but is especially frightening for children. The specialists at the Ruth Rappaport Department of Pediatric Oncology are keenly aware of the differences in cancer therapy between adults and children. In their work, these experts consider the unique needs that often arise for children and their families during the course of cancer treatment.
Hematology-Oncology
The Department of Pediatric Hematology-Oncology provides treatment for children between the ages of 0 to 20 who are suffering from cancer of the blood. The main diseases treated include: Hodgkin's Lymphoma, non-Hodgkin's Lymphoma, Leukemia, and Chronic Lymphocytic Leukemia. The department's multidisciplinary team is professionally trained to work with children. In addition to doctors and nurses, the team includes psychologists, social workers, music and art therapy specialists, and specialists in alternative medicine.
Nephrology
The Department of Pediatric Nephrology provides comprehensive treatment for children suffering from various disease of the kidneys and the urinary tract.
Cardiology
The Department of Pediatric Cardiology was established with the aim of treating congenital heart defects and cardiac anomalies throughout all stages of a child's development: during fetal development, and in newborns, infants, children, and adolescents.
ENT Department
The Department for the Treatment of Disease of the Ear, Nose, and Throat at Ruth Rappaport Hospital is one of the leading ENT clinics in Israel. The department has a wealth of experience in both the treatment of Israeli patients and patients from foreign countries.
Department for Pathologies and Deformations of the Lower Extremities
This department treats pathologies of the hip joints: congenital dislocation of the hip joint, acquired (DDH) and congenital hip dislocation, and Perthes disease. Also treated are congenital clubfoot and orthopedic problems associated with neuromuscular diseases (Cerebral Palsy), as well as various types of injuries and fractures in children and adolescents.
Leading specialists
Use the form below to obtain an estimated cost of diagnostics and treatment at Rambam Hospital.