Treatment of Hemato-oncological diseases at Rambam Hospital, Israel
The Hematology-Oncology Department at Rambam Medical Center provides comprehensive care and treatment of all the known hemato-oncological conditions. The department treats patients suffering from both malignant and benign blood diseases through chemotherapy courses that are conducted according to innovative and highly effective treatment protocols.
The institute is internationally acclaimed and cooperates closely with ECOG (Eastern Cooperative Oncology Group - USA), Dana Ferber Medical Center, Beth Israel Medical Center, Harvard Medical School, EBMT (European Society for Blood and Marrow Transplantation).
The Hematology Center houses multidisciplinary laboratories and a blood bank, creating all the necessary conditions for the successful treatment of patients with blood diseases of varying severity.
The Hematology-Oncology Department at Rambam Hospital is one of the leading Leukemia treatment centers in Israel. The department stands out due to its well-developed infrastructure and its high comfort level. Patients have comfortable rooms and resting places for accompanying individuals at their disposal, resulting in a positive effect on the patient's health and mindset during long-term stays.
Sub Departments:
Hematology-Oncology Department
Pediatric Hematology-Oncology
Blood Coagulation Department
Coagulation Laboratory
Bone Marrow Transplantation Department
Primary procedures performed at the Hematology-Oncology Department
Bone marrow transplantation (TCM)
Autotransplantation of bone marrow (for patients suffering from Lymphoma, Myeloma, or certain types of Leukemia)
Allotransplantation of bone marrow
Bone marrow aspiration and biopsy
In addition, the department treats patients with infectious complications of blood diseases, including intravenous administration of the most advanced antibacterial, antifungal, and antiviral drugs. Patients are offered symptomatic and supportive treatment during the progressive stages of oncohematological diseases, including the most modern methods of pain treatment. The department also carries out blood transfusion procedures and its components using modern methods, which aid in solving the compatibility and incompatibility issues of blood components.
Oncohematological diseases symptoms
Leukemia, the most common oncological blood disease, is characterized by the uncontrolled growth of hematopoietic cells due to a gene mutation. Typical Leukemia symptoms include:
Rapid fatigue
Weakness
Dyspnea
Increased bleeding
The appearance of bruises at the slightest injury
Muscle and bone pain
Unexplained fever (especially at night)
Anorexia (decreased appetite) and weight loss
Susceptibility to infectious diseases
Anemia
Enlarged lymph nodes
Diagnosis of oncohematological disease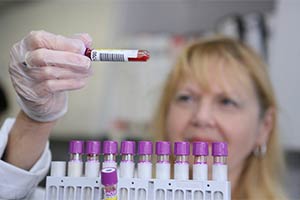 The initial diagnosis of blood cancer involves a physical examination of the patient, anamnesis, and an examination of the functions of the spleen. This is done with the aid of an ultrasound of the abdominal cavity, which allows the detection of an increase in lymph node size, as well as any pathological changes in the internal organs, such as the kidneys, liver, and spleen. The Hematology-Oncology department of Rambam Medical Center also uses additional methods to obtain computer images, such as CT and MRI.
Patients undergo a detailed blood test (general and biochemical), which provides a detailed picture of the patient's health. Blood cells are studied at the chromosome composition level, and bone marrow samples are studied in order to determine the exact type of blood cancer present.
Leading department specialists
Oncohematological diseases
Lymphoblastic Leukemia
Lymphocytic Leukemia
Chronic Leukemia
Acute Leukemia
Hodgkin's Lymphoma
Non-Hodgkin's Lymphoma
Aplastic Anemia
Myeloma
Hematological diseases
Lymph node inflammation
Thrombosis
Increased coagulability
Thrombophilia
Thrombocytopenia
Hemophilia
Use the form below to obtain an estimated cost of diagnostics and treatment at Rambam Hospital.