Rabbi Firer Visits Rambam
Rabbi Avraham Elimelech Firer, who is best known for his medical consultations, arrived yesterday, along with his assistants, for a working visit to the Rambam Medical Center.
During his visit to Rambam, the rabbi met with representatives of the Rambam administration, who presented him with an overview of the activities of Rambam, the largest hospital in the north of Israel.
The hospital's director, Dr. Rafi Biar, briefed the medical tour participants on the achievements of the medical center, as well as on the different stages of the hospital's development in various disciplines. This meeting was also attended by directors of the medical departments and various other units at the hospital.
Rabbi Firer is a medical consultant and the founder of the Ezra Lemarpeh Association, a non-profit Israeli organization that provides medical and healthcare for the disabled and other patients, for which the rabbi has been awarded the Israel Prize in 1997, among other rewards.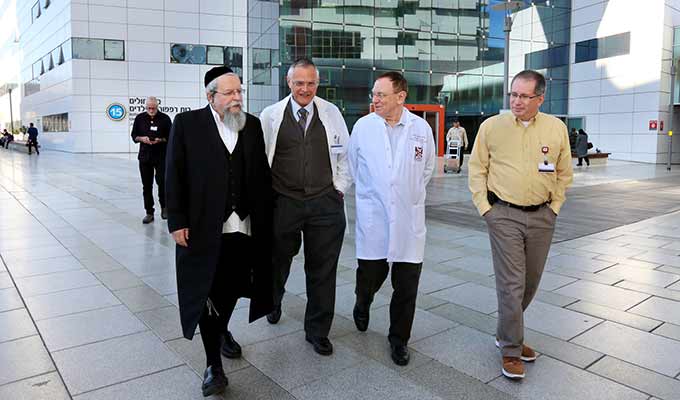 In the photo, from left to right: Rabbi Firer, Prof. Skorecki, Prof. Biar, and Dr. Halbertal tour Rambam.
At the end of the meeting, the visitors toured the Rambam campus, accompanied by Prof. Biar and his assistants, Dr. Miki Halbertal and Prof. Karl Skorecki. Rabbi Firer toured all of the departments of the Ruth Rappaport Children's Hospital and was especially impressed by the work being done in the Department of Surgery, the neonatal intensive care unit, the intensive care unit, and the children's onco-hematology department. He then went on a tour of the new Fishman Oncology Center, where he met the center's staff and saw firsthand the day-to-day work performed by the clinics there, and by the daycare hospitalization, radiology, and chemotherapy departments. The tour continued in the neurosurgery intensive care unit, which concluded Rabbi Firer's visit.
"I thank Rabbi Firer for his visit," said Prof. Biar at the end of the day. "It was an opportunity for us to introduce to him our new physicians, our therapeutic innovations, and the future of Rambam medical treatment."