Joint Arthroscopy
Joint arthroscopy is a minimally invasive surgery that allows the doctor to analyze joints visually and treat joint components located inside the joint cavity. Arthroscopy is typically performed to determine an accurate diagnosis for treatment of some particular joint diseases and dysfunctions. During a joint arthroscopy, a specialized endoscope called an arthroscope is placed into the joint through the incision made by the surgeon. Arthroscopic surgery is extremely effective and offers superior results when compared to open surgeries.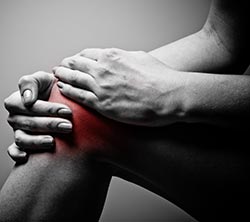 The procedure was first used in Japan during the early 1920s, and until recently, was performed by a small number of specialists. Nowadays, however, the procedure has become widely used for proper imaging to diagnose and treat joint diseases. Arthroscopy has enabled surgeons to treat the pain and discomfort associated with joint disease and a number of intra-articular diseases. With the help of this procedure, patients are able to return to their normal life and enjoy an active lifestyle.
Many hospitals and clinics around the globe turn to arthroscopic surgery as a routine procedure to diagnose and treat joint issues because joint arthroscopy comes with a very low risk of side effects and complications. In general, any complications are rare and likely the result of a poorly skilled surgeon.
Why It's Performed
Joint arthroscopy is generally performed to reduce the discomfort in a patient's joints. The goal is to drain the glenoid cavity of synovial fluid, a harmful substance with mucin, cartilage and other particles. Arthroscopic surgery is typically done on the knee joint, but there are emergency situations in which an arthroscope is used to operate on the ankle, shoulder or elbow.
When joint arthroscopy is performed on the knee, it is commonly used to treat a number of issues with the meniscus. Arthroscopic surgery enables surgeons to:
remove the damaged section of the meniscus
restore ligaments of the knee
stabilize the knee joint
reconstruct articular cartilage after physical injury
extract foreign particles
eliminate folds and adheres
complete arthroplasty and arthrolysis
make certain kinds of synovectomy
During joint arthroscopy, a surgeon can also take samples of fluids or tissues from a number of areas in the joint to provide chemical, bacteriological and other kinds of analysis.
Another use of arthroscopic procedures is to determine the cause joint diseases and reduce the pain, discomfort, swelling, joint instability and other symptoms. For more complicated problems, joint arthroscopy is supplemented with additional diagnostic procedures. Using X-rays, MRIs CT scans and others diagnostic tests as well, your medical team may be better able to correctly diagnose the problem.
Joint arthroscopy procedures require a thorough examination of the patient's overall health and careful consideration for any contraindications before proceeding. Arthroscopic surgery is contraindicated in patients with severe nervous system disorders, cardiovascular diseases, or a considerably comprised state of health. Additionally, joint arthroscopy is not recommended for patients with osteomyelitis, arthritis, bone tuberculosis, joint contractures, ankylosis, septic or infectious joint disease, syringomyelia, and many types of joint issues.
Leading department specialists
Dr. Bezalel Peskin
Head of Knee and Arthroscopy Department, orthopedic surgeon consultant
Orthopedic surgery packages
Hip Replacement (THR)
Price $
The Package Includes:
* Up to 7 days of hospitalization.
* Surgery operating room charges: operating room, recovery room, scrub & circulating nurse
* Routine laboratory tests necessary for the procedure as ordered by the attending physician.
* Radiology Studies: Chest X-ray, if required.
* Medications: Routine medication used for procedure, during admission only.
* Equipment costs: Medical Supplies, Routine Surgery Supplies.
* Doctor Fees: Orthopedist + Anesthesiologist + Assistant orthopedist (if necessary)
18,500 - 21,000
Knee Replacement (TKR)
Price $
The Package Includes:
* Up to 7 days of hospitalization.
* Surgery operating room charges: operating room, recovery room, scrub & circulating nurse
* Routine laboratory tests necessary for the procedure as ordered by the attending physician.
* Radiology Studies: Chest X-ray, if required.
* Medications: Routine medication used for procedure, during admission only.
* Equipment costs: Medical Supplies, Routine Surgery Supplies.
* Doctor Fees: Orthopedist + Anesthesiologist + Assistant orthopedist (if necessary)
17,100 - 19,000