Prof. Yehuda Chowers, Associate Professor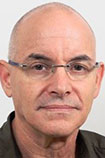 Prof. Yehuda Chowers
Director, Gastroenterology Institute.
Director, Clinical Research Institute at Rambam (CRIR).
Specialization: Prof. Chowers is Director of the Gastroenterology Institute at Rambam Health Care Campus, as well as an Associate Professor at the Rappaport Faculty of Medicine at the Technion. In addition, he has been a Principle Investigator and member of the Clinical Research Institute at Rambam (CRIR) since 2008.
Clinical Experience: Prof. Chowers' clinical specialties are in the field of chronic inflammatory bowel diseases, including Crohn's disease, ulcerative colitis, and radiation-induced bowel injury.
Research and Academic Activities: Prof. Chowers' research focus areas include therapy and drug-related mechanisms in IBD, personalized medicine and therapeutic drug monitoring, and understanding the mechanisms of action and interaction of the mucosal immune system with bacteria.
Professional Activity: Prof. Chowers holds membership in the European Crohn's and Colitis Organization, the American Gastroenterology Association, the Israel Gastroenterology Association, and the Israel Medical Association. In addition, he is the Chair of the Israeli IBD society. In the past, Prof. Chowers has represented ECCO in the UEGF Scientific Committee, served as an Associate Editor for The Journal of Crohn's and Colitis, and was on the editorial board for Gut.
Social Activity: Prof. Chowers has co-authored more than 120 peer-reviewed papers. He also serves as a reviewer for numerous gastroenterology-related journals.
Publications in PubMed