Prof. Ziv Gil, Associate Professor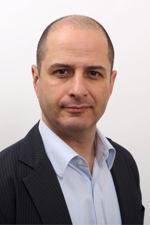 Prof. Ziv Gil
Director, Department of Otolaryngology-Head & Neck Surgery, Head and Neck Center.
Specialization: : Prof. Gil is the Director of the Department of Otolaryngology Head and Neck Surgery at Rambam Heath Care Campus. In addition, he serves as Head of the Applied Cancer Research Laboratory of the Technion-Israel Institute of Technology at Rambam
Education: Holding both an MD and a PhD in Biophysics and Neuroscience, respectively, from Ben-Gurion University, Prof. Gil is also a graduate of the Otolaryngology Residency Program at Tel Aviv Medical Center. He completed a two-year fellowship in head and neck surgery at Memorial Sloan Kettering Cancer Center, New York, as well as a second fellowship in skull base endoscopic surgery at the University of Pittsburgh Medical Center.
Clinical Experience: Prof. Gil has both initiated and implemented breakthrough techniques in skull base endoscopic and robotic surgery.
Professional Activity: Prof. Gil is a Barbara S. Goodman Endowed Investigator (ICRF), and a member of both the Rappaport Research Institute and the Clinical Research Institute at Rambam. He additionally established the first comprehensive Head and Neck Center in Israel at Rambam in 2014. Prof. Gil is the leader of several international consortia on head and neck cancer, including the International Consortium for Outcome Research (ICOR) in head and neck cancer and the Adenoid Cystic Carcinoma International Study (AXIS) Group.
Social Activity: Well-respected and highly sought-after, Prof. Gil is frequently invited to lecture and teach courses internationally. He has written 4 books and more than 200 scientific publications and book chapters. Prof. Gil is currently a member of the editorial board of multiple journals, including Otolaryngology Head and Neck Surgery, The Skull Base Journal, and The Head and Neck Journal.
Awards: Prof. Gil is the recipient of awards from the Israeli Parliament, the New York Head and Neck Society, the Israeli Cancer Society, and Folks Foundation, UK. He has been included on the "Faculty of 1000" best articles list on various occasions.
Publications in PubMed